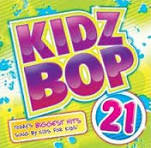 Release Date: Jan 17, 2012
Normal Tracks (1)
Party Rock Anthem
Moves Like Jagger
The Edge Of Glory
You Make Me Feel...
Good Life
Stereo Hearts
Without You
Fly
Hello
We Found Love
It Will Rain
The One That Got Away
Good Feeling
Mr. Saxobeat
It Girl
Someone Like You

ITunes Deluxe (2)
This City
Pretty Girls
I Like It Like That
The Edge Of Glory (Music Video)

Target Deluxe (3)
Mr. Know it all
Keep Your Head Up
Love You Like a Love Song
How To Love

Walmart Super Fan Club Edition (4)
Break Your Heart
Telephone
Cooler Then Me
Billionare
That's Not My Name
Stereo Love
All The Right Moves
Whip My Hair
Kidz Bop Magizene
Trivia
The songs "Party Rock Anthem" and "It Girl" were in a different pitch. In the Target Deluxe, the song "Keep Your Head Up" was in a different pitch.
Sources:
Ad blocker interference detected!
Wikia is a free-to-use site that makes money from advertising. We have a modified experience for viewers using ad blockers

Wikia is not accessible if you've made further modifications. Remove the custom ad blocker rule(s) and the page will load as expected.