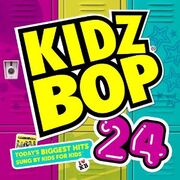 Release Date: July 16,2013
Normal Tracks (1)
1.Thrift Shop
2.I Knew You Were Trouble
3.Suit and Tie
4.Beauty and A Beat
5.Ho Hey
6.Come and Get It
7.Feel This Moment
8.Scream and Shout
9.Girl on Fire
10.I Love It
11.Can't Hold Us
12.Heart Attack
13.Mirrors
14.22
15.Just Give Me A Reason
16.Don't Stop The Party
Itunes Deluxe (2)
17.It's Time
18.Don't You Worry Child
19.Harlem Shake
20.I Love It (Music Video)
Target Exclusive (3)
21.Troublemaker
22.Sweet Nothing
23. I Will Wait
24.Stay
Walmart Deluxe (4)
1.Edge Of Glory
2.Break Your Heart
3.Firework
4.DJ Got Us Falling In Love
5.The Lazy Song
Trivia
The songs "Beauty and a Beat", "Scream and Shout", "Can't Hold Us", "Heart Attack" and "Mirrors" were in a different pitch. In the Target Bonus Tracks, the songs "Troublemaker" and "I Will Wait" were in a different pitch.
Sources
1.http://www.kidzbop.com/music/kidz-bop-series/Kidz-Bop-24
2.https://itunes.apple.com/us/album/thrift-shop/id656381624?i=656381625&ign-mpt=uo%3D2
3.http://www.target.com/p/kidz-bop-kids-24-only-at-target/-/A-14595737#prodSlot=medium_1_1&term=kidz+Bop+24
Ad blocker interference detected!
Wikia is a free-to-use site that makes money from advertising. We have a modified experience for viewers using ad blockers

Wikia is not accessible if you've made further modifications. Remove the custom ad blocker rule(s) and the page will load as expected.