Birthdate: Jun 22, 2004
Age: 14
Sierra

Hey! It's Sierra, from the Kidz Bop kids!
Vital statistics
Title
Sierra
Gender
Female
Eye Color
Brown
Faction
{{{faction}}}
Health
{{{health}}}
Hair Color
Blonde
Status
Alive
Location
California
Age
Kidz Bop Years: 12 - 13
Species
Human
EVERY WEEK IS FASHION WEEK! Sierra is a total fashionista and loves to sketch her own fashion designs. This girl loves to find unique outfits for her closet! Right now, her favorite pieces are her bell-bottoms and beaded jacket. Very chic!
J'ADORE PARIS Sierra's favorite city in the world is Paris, and she always dreamed of visiting. When her parents surprised her with a trip to France, she was so excited – she started crying tears of joy! Her favorite memory was seeing the Eiffel Tower in real life, for the first time.
SAY CHEESE! Lights, camera, action! Sierra likes to work behind the camera and direct all kinds of fun shoots. She loves photography and is always ready to plan a photoshoot for her friends. If she's feeling creative, she'll even break out her green screen.
PROBLEM SOLVER From science to mathematics, Sierra has got the answers! She likes experimenting and figuring out the solutions to complicated problems. It's not always easy, but she doesn't mind working to get the right answer!
FUTURE POP STAR… AND MATHEMATICIAN If you ask Sierra what she wants to be when she grows up… she'll say: "singer, dancer, actress, scientist, fashion designer, make up creator, artist, swimmer and mathematician." Well, that is quite a career!
FAVORITE SINGERS: Sabrina Carpenter, Taylor Swift, Adele, Meghan Trainor & Ariana Grande
FIRST APPEARANCE:
Meet the Six New Kidz Bop Kids
LAST APPEARANCE:
Bon Voyage, Sierra
LIKES: Singing, Recording in the studio, Dancing, Paris, Smoothies, The Speak Up Challenge, Bunny Rabbits, Instagram, Twitter, Musical.ly, LIVE Videos, Concerts, Tour Bus, Chuck E Cheese, Gummy vs. Real Food Challenge, Bean Boozled Challenge, Lego, Halloween, Slime!, Candy, and Christmas
DISLIKES: Bean Boozled, Skunks, Rotten Eggs, Boogers, Moldy Cheese, Being sick, and when people are sad it makes her sad.
Note from Cindy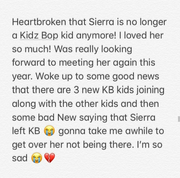 Trivia
Before she became a Kidz Bop Kid, Sierra was in the Rio 2 Burger King Kids Meal Commercial.
Before she became a Kidz Bop Kid, Sierra was in one of the King's Hawaiian Jalapeno Rolls TV Spots.
Sierra loves doing LIVE Videos. She sometimes hides her face when other Kidz Bop Kids do LIVE Videos and try to film her.
Sierra doesn't like Rotten Egg jellybeans. She got it while playing Bean Boozled with the rest of the Kidz Bop Kids. Poor girl.
Sadly, Sierra left Kidz Bop in early 2018 because she wanted to spend more time with her family. But she will always be part of the Kidz Bop Family and it seems to be her voice on the newest songs too.
Gallery